I've been busy playing GRID 2 for a while now, the past couple of days I was determined to go as much as I can into the career mode to get a good grip on the game.
http://www.youtube.com/watch?v=iwT2lLYQUkM
GRID 2 hit stores a little over a week ago, and I got my copy within a couple of days, I had just bought my new laptop and I wanted to see if it could handle it, and it did(yay me!) I played a couple of races, then went on to other games. The thing about GRID 2 is that it is a good game, but it may not capture you right from the get go, it certainly didn't get me addicted by the third race or so. However, it does get pretty addictive once you finally start the WSR (World Series of Racing). Usually you get an easy race at the start, expect no such things here, you'll be driving a Mustang(which happens to be my favourite car) through the streets of Chicago on your first race, sliding around corners and burning rubber automatically brings a smile to your face.

WSR is a series started by an investor – Patrick Calahan. There's nothing new about his vision, it's something most racing games have, bringing the best from across the world and battling it out to find out who is the absolute best.
GRID2, though, does it in an exciting new way, your job is to be the ambassador of the series, work your way up as you gather more followers(or fans) completing races, sponsor objectives or promotional events gives you a chance to gather a following. After 2 days of racing, my following is now at 8 Million+, suffice it to say that it's not too hard to get a following.
You start off impressing clubs in the US to join the series, after which you move on to Europe and then Asia and the Middle East. At the end of each season there is a series of WSR events and the WSR final. After which, and this is the part that made me go "woah" you see, wait for it, SportsCenter! The official SportsCenter hosted by what I am guessing are the hosts of the American(or the original) edition of the show, talking about WSR.
By the start of season 4, you've impressed the Americans, Europeans and Asia and the Middle East, from then on, ESPN becomes the official broadcaster. It's a very clever way to do in game advertising, clever because ESPN is relevant to the game, a city simulation game, after angering a lot of consumers gave them a "free" download of a Nissan(I think it was Nissan, not sure, been a while) Charging station, which angered some players even more. In this case though, instead of the player going "oh damn what a sleezy move", I went "Oh wow! this is cool."
Graphics are drop dead gorgeous, the locations, lighting, and reflections are absolutely brilliant. In season 4, you have a chance to do a night race through Chicago, and I swear it brought a tear to my eye, okay it didn't, but you get my point. And to top it all off, you get fireworks at the finish as you cross the line ahead of your opponents and bask in your glory!
One of my favourite locations in the game to race at is California, I love Dubai too(I live here after all) but the sunlight flickering through the forest as you slide around a hairpin with a massive cliff on the other side, it is worthy of a standing ovation.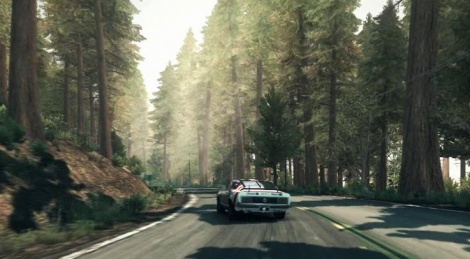 Don't get me wrong, it isn't all good news. There are many little annoying things about the game, for example your opponents(in singleplayer ofcourse) may decide to break, abruptly, on a straight, for no other reason than to make you hit them and piss you off.
Another being that sometimes the game is so hell bent on beating you that you start 11th(out of 12), even though you won the previous race, on the streets of Paris. Now, I love a challenge just as much as the next guy but when you're trying to overtake through the narrow streets of Paris on a race type called the liveroutes(in which the corners keep changing, you basically rely on reflex than a calculative approach) and you start at 11th while your rival is up there on 1st, it may get a bit annoying. Sometimes you will be forced to pick a type of car, your choices will be down to only 3 of your cars, while your opponents stick to their signature cars, for example for a drift challenge a rival got to keep his mustang while i had to drive a "drift" car. Not a big deal breaker, but annoying nonetheless.
There are no modification options for your cars, other than of course, paint jobs and vinyls. And the cockpit view is removed, because they claim it wasn't being used as much. It would still be cool to see the interiors in action on a Pagani Huayra(don't even bother pronouncing it).
GRID 2 doesn't cheapen the game with scantily clad women waving the chequered flag and on loading screens but at the same time it doesn't ruin the fun by making you take drivers ed all over again. What it does is give you season after season of exciting races, beautiful locations and amazing cars. And what the game does, it does it extremely well.
Got any questions, or maybe you just want to say hi? then drop me a line at  gvindyb@ordinarygamer.co.uk or hit me up on twitter @DualShockGam3r