This is going to be my second article in the series, and it is not about just another game. It's about Will To Survive. What makes this game so special you ask? (You probably didn't but I'm going to assume you did)
Will To Survive is an upcoming indie game by FiringPin Games. Alex Dawson, the man behind the studio and the game is not a newcomer to the game development scene, in fact he, on a sunny summer morning, was hanging a clock in his bathroom, fell and the image of Will To Survive came to his mind(99% of you wont get this reference). The truth is only he knows how and when it came to his mind, all I know is that it is a game that is a lot of fun to play(and that's from experience).
In Will To Survive  you play as lonely Will who seems to be one of the few last survivors in a planet invaded by aliens, so far nothing out of the ordinary right? Wait for it.. no seriously, I'm getting to it.
What makes Will To Survive different to other games is a simple concept. The game never stops running.
People who grew up in the 90′s will remember a thing called GigaPet. It had a couple of other names too, but I can't be bothered to find a list, so here's a picture.
It was an annoying little thing, you basically had a pet, you had to feed it, take care of it, clean its poop and it would just keep beeping if you weren't paying attention. The reason I am bringing up is that it basically had the same principle game mechanic wise.
That being said, Will To Survive wont bug the carp out of you, you will have to care about Will even when you're not playing, that means stocking up on food, fortifying your shelter and making sure to check up on him. The developer plans on doing this by creating an app for the Mobile Devices and Tablets ensuring the player's Will continues To Survive(see what I did there?). Every time you find a bottle of water, it is up to you, to decide whether to drink and quench your thirst right away, or save it for a rainy day….or I guess a sunny dry day, you get the idea.
But I still had some questions, so I bugged Alex, and he finally decided to sit down and answer some of my questions.
How long has Will To Survive been in development?
I started working on the game in May last year after one of my freelance contracts had ended; I had some free time and decided to start on one of my own projects. Originally I was trying to decide between a smaller point and click game which I had started and a larger more ambitious idea that I thought up during a pub lunch one day during work. The ambitious idea won in the end and later became Will to Survive. It was something that I had been excited about making ever since I first thought of it and had slowly developed from a simple real-time zombie game into something far greater.
I've been developing it in-between paid work since then with the aim being to create a solid prototype. The prototype helped me figure out that the game mechanics work, lay a foundation for the project with which to build and improve upon while also allowing me to figure out how much time I would need for creating all the art assets.
You used to work in the gaming industry. What made you become and Indie developer? How much of a change has it been? 
Working for a bigger games company was a good experience. I met a bunch of lovely people and I learnt a lot of valuable lessons while I worked there, but there was always something missing. I've been interested in making games from a very early age and have always had lots of my own ideas about the kinds of games I wanted to see, so working on someone else's project was never fully satisfying. I was getting a bit restless in my role and decided a change of scenery was in order so I quit to become a freelance artist and hopefully use that as a way of funding my own personal projects. After working on Will to Survive for a few months it was clear that my heart was quite firmly set on the indie path.
The change has been pretty substantial in a very positive way, working at your own pace and time scale is very different but I've forced myself to be very organised and focused. The change of pace has been lovely and there's something great about creating something that is very personal and close to you. I would say the biggest change is how rewarding it is, it's not without its share of stress and worry but I really enjoy what I'm doing especially now that I can finally show what I've been working on.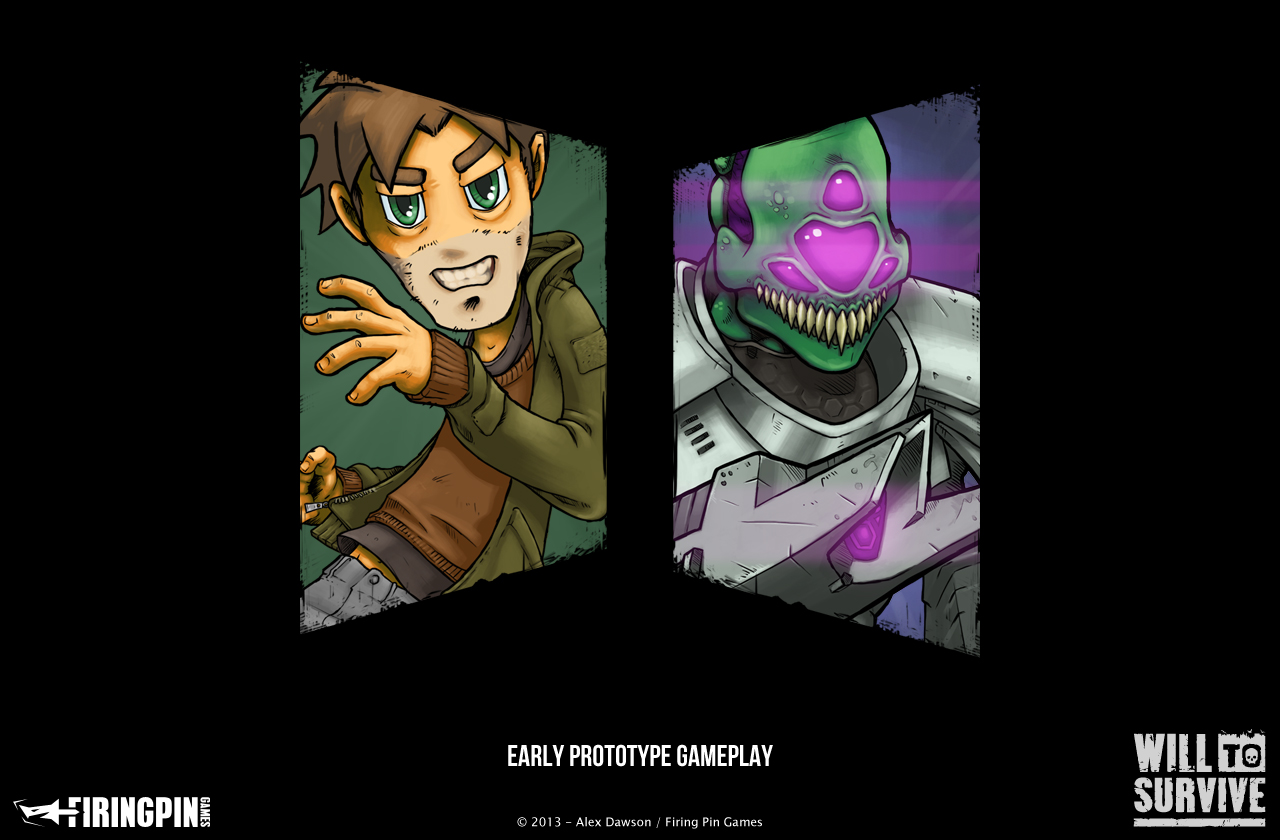 What could you tell us about the sacrifices you've had to make to become and Indie developer?
The biggest sacrifice has mainly been in terms of money, giving up a decent regular salary wasn't an easy choice to make but sometimes you have to follow your dreams. The lack of human contact I miss too; I don't have colleagues to chat with over a cup of tea any more, unless my flatmate is home. I did a few months working for the guys at Fat Pebble earlier this year and it's surprising how much being in an office with other folk can raise your spirits.
Will To Survive is currently on Greenlight, some developers have said that the Greenlight system takes a lot out of the Indie developer, what could you say about that?
I've only been on the system for a short time so far so I may have a different answer a few more weeks down the line, but so far I've found it to be really rewarding. There are lots of positive comments which I make a daily task of reading, I don't have enough time to respond to them all but they serve as really good motivation. You get negative comments, it is the internet after all. The important thing is to try and turn those into a positive, if someone doesn't like a particular aspect of the concept I explain why I think it is a good idea. They may not read it and change their opinion but it may affect someone else who happens to read it. I think greenlight is a brilliant idea too; It gives indies a chance to be heard and that's a fantastic thing. It has its flaws but then Rome wasn't built in a day, it will slowly get better and those flaws will eventually get ironed out.
I've thoroughly enjoyed the prototype of the game, when can we expect a full fledged release?
That's wonderful to hear, I'm proud of what I've achieved so far but there's a lot of polish, features and improvements that need to be made. At the moment the plan is to develop the game for a further year releasing a Beta some time early next year. This time frame will alter based on the amount of funds raised during the campaign. Below you can see the game's developer Alex Dawson give you a commentary on the prototype of the game.
The game is definitely shaping up to be a good one, it's doing something different and it does it well. As always I'd like to wish Alex and FiringPin Games the very best! You can help them out by spreading the word or take an active role by checking out their Kickstarter campaign. If you don't feel like doing that, well then vote it up on greenlight. If you're in one of your moods and don't feel like doing that either, atleast say Hello to the very creative, and approachable, and in my case, very patient Alex Dawson.
You can contact Govind by email:  gvindyb@ordinarygamer.co.uk or say hello via twitter @DualShockGam3r